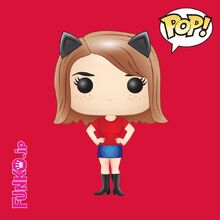 About Diz
Diz the Dizzy (or just "Diz") joined NaNoWriMo YWP on November 1st, 2015. Throughout the month, she inched into the forums until she became an active member.
Diz is the creator of Mygla and Calliope Abroad (Most notably: Wala).
Diz is a member of LWLOF and Antisocial Club. She is an inactive member of the Loser Club.
Fandom Life
Diz is not a good Fangirl. She is a member of "The Secret of Kells" fandom, "The Cleopatra in Space" fandom, (She is also a Brikila shipper. Hardcore),"The Prydain Chronicles" fandom, and "Henson Puppetry" (Mainly Muppets and Fraggle Rock. Her favorite Fraggle is either Mokey or Boober, which she ships. Her favorite Muppet is Scooter)
While she is not a Harry Potter fan, people compare her to Hermione Granger. A lot.
Trivia
Diz is a Capricorn
Diz's lucky number is 12
Diz has a strong interest in World Mythology, Percussion, Puppetry, and Alternative Rock
Community content is available under
CC-BY-SA
unless otherwise noted.